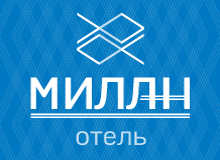 ISDEF conference is growing, now it's time to find a new place for it. It's Milan hotel 4*. Adress: 28A Shipilovskaya str. Moscow 115563 Russia
This choice is based on first of all good combination of transport access, conference options available, service level and hospitality of this hotel. High level of comfort creates an elegance atmosphere.
Milan Hotel is located just 20 minutes from Domodedovo Airport, and a seven-minute walk from the Domodedovskaya metro station.
For business the hotel offers 15 modern conference halls capacity to 350 persons, business center and also a wide choice of additional services. For rest of visitors - restaurant Tiberio and Visconti with European and Italian cuisine, Piano Bar with live music. Free WIFI in all zones of the first and second floors.
The hotel has 298 comfortable rooms, including 275 standard rooms with one or two beds and 23 deluxe and suite rooms, connected and rooms for disabled
All rooms have air conditioning, king size beds or two separate beds, Free Internet, satellite television, direction international telephone communication, luxury toiletries, and duvets.
Advantage of hotel is the close arrangement to the international airport "Domodedovo" and easy access to the basic highways of Moscow. The big underground parking and a supervised parking will be useful to those who has got used to travel on the car.
There are shuttles to Domodedovo Airport from the hotel (at 08:00, 10:00 and 12:00).
Not far from Milan Hotel there is a great culture preserve Kolomenskoe. At Kolomenskoe there are a lot of picturesque beauty spots. In summertime You can go horse riding or take a water bus. The Church of Ascension (16 century) in Kolomenskoe has been designated by UNESCO as World Heritage Site.
Tsaritsyno is a unique historical and architectural memorial estate with landscape park, an art museum and entertainment centre. It is a best place for romantic walks and rest with children. Various excursions, exhibitions, concerts are available at Tsaricyno.