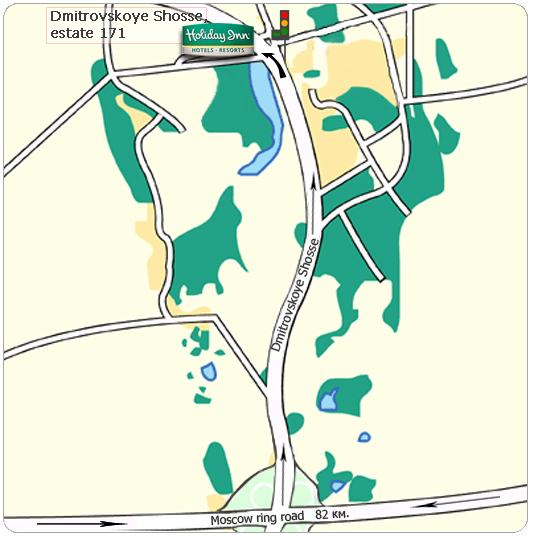 Holiday Inn Moscow, Vinogradovo is conveniently located at Dmitrovskoye HWY, 4 kilometres from the city ring road MKAD, 15 minutes from Sheremetyevo International airport.
See the map.
Driving directions from Moscow:
Leave Moscow via Dmitrovskoe highway and take a left turn at a "Holiday Inn" sign a few kilometers after the city's belt road.
Public transportation:
From "Altufievo" subway station (first train car from downtown). Leave the subway and turn left twice to take a bus or a shuttle #586 or #572 572 to Vinogradovo.
You can board them near the "Perekrestok" store.
From Moscow's airports:
Take Aeroexpress (schedule and prices) to the subway, then take the subway to "Altufievo", then take a shuttle to the hotel.
Taxi.
Komandir, http://www.komandir.ru, +7 (495) 9 888 888 (RUS/ENG)
Taxi formula, http://www.formula-taxi.ru, +7 (495) 777-5-777 (RUS/ENG)
Taxik, http://www.taxik.ru, +7 (495) 921-38-31 (RUS) 
Transport company 956, http://www.taxi956.ru, +7 (495) 956-8-956 (RUS) 
Taxi 555, http://taxi-555.ru, +7 (495) 665-8-555 (RUS) 
Almaz taxi, http://www.almaz-avto.ru, +7 (495) 729-25-29 (RUS) 
Prestige taxi, +7 (499) 131 33 08 (RUS)